Most people want to be liked or even be loved. But a good value proposition for a firm should not attract everybody but only the ones you intend. And that means that a lot of people might even hate you.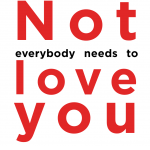 Take the latest controversy about Abercrombie & Fitch, an American retailer for casual wear. See here (forbes.com), here (Los Angeles Times) or here (Daily Mail, UK).
Abercrombie & Fitch offers no women's XL or XXL because they don't want big women to wear their brand. Their value proposition is clear: They want the cool kids as customers. They do not consider big women as cool.
Mike Jeffries is the man behind A&F. In an interview with Salon Magazine in 2006 he told, when asked about the emotional experience in his shops:
"It's almost everything. That's why we hire good-looking people in our stores. Because good-looking people attract other good-looking people, and we want to market to cool, good-looking people."
That is the reason why they offer nothing for big ladies. That is their choice. They discriminate big ladies, but you as customers have the choice as well. You are not forced to buy at A&F. I do not buy at A&F because I do like their attitude. However, they have a value proposition that is clearly distinguished from their competitors. And that is what I like and adore. They stick to their mantra even under severe pressure from the public.
Take other firms, Apple or Zara. They also discriminate. Apple's Operating System is a closed system and either you take or leave it. At Zara, you also have no extra large sizes.
H&M, Dove: The opposite can be right as well
Interestingly, other firms like H&M or Dove have a different approach to big or natural ladies. H&M offers a H&M+ collection for larger women. Continue reading You do not have to be loved by everybody – a great value proposition